At the Mitsubishi Logisnext Group, we have long committed to managing our business with a strong focus on sustainability in keeping with our corporate philosophy of "moving the world forward as the leading provider of innovative logistics and material handling solutions." We will continue to work toward achieving the objectives of the sustainable development goals (SDGs*) through our business operations.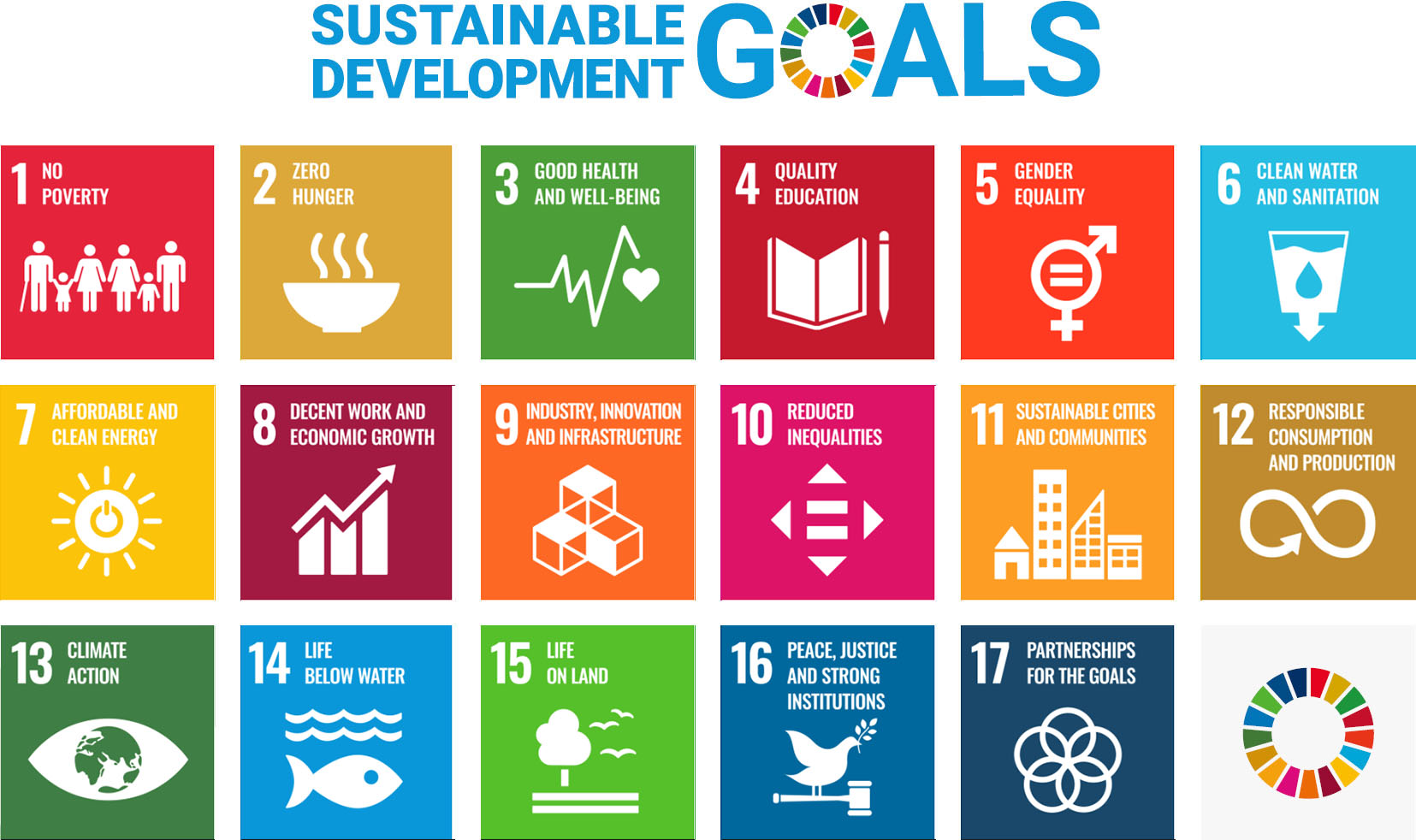 *These goals were adopted by the United Nations in 2015 to contribute to a world in which "no one is left behind." The 17 universal goals have been targeted for achievement between 2016 and 2030.
Policies related to the SDGs
As a comprehensive manufacturer of logistics equipment that supports logistics operations around the world, we support the objectives of the SDGs advocated by the United Nations, offer solutions to societal issues through our business operations, and contribute to the sustainable development of the planet and society at large while helping to build a better future.
1. Conservation of the global environment
We will strive to protect the environment with a global perspective.
2. Development of local communities
We will establish good relationships with stakeholders, offer solutions to societal issues through our business operations, and contribute to the continuous development of local communities.
3. Human resource development
We will respect the human rights, individuality, and creativity of each and every employee, provide a rewarding work environment, support personal growth, and develop personnel who are capable of supporting our global society.
4. Strengthening corporate governance
We will implement an effective corporate governance system to ensure fair and honest business practices while fulfilling our social commitments as a good corporate citizen.
Publication of the SDGs Report
We publicize our efforts to achieve the objectives of the SDGs so that all stakeholders gain a better understanding of our initiatives.
Quality Policy
We will provide safe and secure products and services to customers and strive to improve customer satisfaction.
We will strive to eliminate non-conforming products and will always take prompt and effective action should such an instance arise.
We will raise the quality awareness of all our employees and work together with related parties to ensure the highest levels of quality.
We will continuously improve our quality management system.
Environmental Policy
We are committed to protecting the global environment from an international perspective and contributing to the ongoing development of local communities.
Targeting carbon neutrality in 2040
The realization of a carbon-neutral society is a global challenge. Maintaining the global environment is a top priority for us as well. As a member of the Mitsubishi Heavy Industries Group, which boasts a proven track record in the field of decarbonization, we believe it is our mission to take the lead in implementing climate change countermeasures. As we work to support the Mitsubishi Heavy Industries Group in attaining carbon neutrality in 2040, we will take steps to ensure that our businesses, products, and services become more intelligent, decarbonized and electrified.
CO2Emissions Reduction Target
| Target year | Reducing CO2Emissions Associated with Our Business Activities |
| --- | --- |
| 2030 | 40% reduction (relative to fiscal 2017 levels) |
| 2040 | Net Zero |
Environmental Reports
Our annual Environmental Reports are available as PDF files. Beginning with this 2021 issue, the Environmental Report has been integrated within the SDGs Report.
Acquisition of ISO Registration
We have established a quality management system that results in products and services that meet customer needs, and an environmental management system that seeks a sustained reduction in our environmental impact and an improved social environment through our business operations. As part of this effort, we have acquired certification of registration with the ISO 9001 and ISO 14001 international standards.
Environmental Measures related to Products and Green Procurement